First up, Why Filmora X?
Before I get into the whole WonderShare Filmora X review it is important to address why Filmora X has a place in the world.
Since the introduction of consumer-level video editing software many years ago, the better-known brands have been becoming more and more feature-rich.
This is a bit of a "good news-bad news" scenario.
The upside of this "features arms race" has resulted in software companies adding features to their products at a furious pace.
The downside is that every time they add something new they must add access to that feature and controls for it.
This leads to a complication of the user interface resulting in software that looks more like the control console of a space shuttle!
Another downside and one that nobody really wants to discuss is that in many cases the added new features are not necessarily things that everyone would actually use.
Because of this, more and more people are searching for something simpler and easier to use, so here we are with Filmora X.
What Does Wondershare Filmora X Do?
The key to the success of Wondershare Filmora X is that it has struck a balance between keeping it simple whilst at the same time providing tools and features that the average person would actually use.
They have kept the user interface clean, modern, and uncluttered yet at the same time offering easy access to the features and functionality of the program.
Wondershare Filmora X comes in versions for both Windows and Mac and is my top choice for an easy or simple video editing software.
To get an idea of how it looks and behaves you can take a look at the video below before you continue with the rest of this Wondershare Filmora X review.
Keep in mind that this promotional video was created exclusively using Filmora X BUT, by someone who REALLY knows how to use it!
Filmora X Review
Getting Started
Let's go with the given link and download filmora9's Latest version or purchase here. You have just click on the given to start downloading.
Download Here: https://fas.st/HJW6F
When you open the program each time you are either presented with the simple splash screen below seen or you can go directly into the full editing interface.
This pretty much sets the tone for editing with Filmora with only the relevant information being needed to get going.
You can:
Choose the aspect ratio of the project you want to make based on the aspect ratio of the video you will be working with or the final output you are looking to create.
Most modern devices will be 16:9 but 1:1 for Instagram, 9:16 for portrait, 4:3 for standard definition, and 21:9 for cinema widescreen are also covered.
Then you can either select to create a new project or open one you are already working on.
There is also a space to the right that shows some of your recent projects if you want to reopen one of them to continue working.
You are then taken into the full editing interface as shown below.
The User Interface
As you can see from the image below the Filmora interface is very simple with no hidden menus or endless menu trees of features.
The three sections of the interface, as shown above, are as follows all of which can be adjusted in size to suit the particular action you are engaging in at any time.
1. The library area where you can organize all of your video, audio, and image assets as well as gain access to effects, filters, and transitions.
Here you can also import media via the Instant Cutter which is a tool for loading footage and as it suggests whilst offering the ability to instantly isolate segments of that footage and render immediately to new files.
This is a very efficient way to pre-process your footage before it reaches the library and can save a bunch of time with the footage you know needs to be trimmed or cut before you are going to use it.
2. The preview window where you can play back individual clips, a section of a project, or a complete project before exporting.
3. The timeline where you can add, arrange and individually edit all your video clips, audio files, and image files.
Editing is a simple drag and drop process to add things to the timeline with the timeline itself running on a "magnetic" system which causes assets to automatically stay together.
This is where you can add transitions, filters, special effects, and engage in other editing actions, and is really where you would be doing the bulk of your work.
There are 100 tracks available to be used for video, audio, or images and it is here that you can access some of the more advanced tools on offer.
You really only have to look at the buttons to understand what it is for and that intuitive nature carries on throughout the entire program.
Simply cut in the middle of a file by placing the play head at that point and (obviously!) clicking the little scissors icon.
Lengthen or shorten a file by placing your cursor at the end and clicking and dragging.
Click and drag items onto the timeline, select and hit delete to get rid of them.
Editing Tools
There are quite a few editing tools available in Filmora X shown in the image below offering excellent control over the look of your final video.
As you can see there are seven types or styles of tools offered which have within them quite good levels of customization allowing you to fine-tune your video and image assets.
The Transform tool allows control over rotation and sizing, Compositing lets you apply blend modes to overlays and transitions and the Stabilization module does exactly what it says on the box!
Lens Correction can be applied to a wide range of action Cams already built into the program as presets because the properties of those lenses are already known.
However, you can bypass those presets and manually adjust to your own needs.
Drop Shadow adds a shadow to images or videos or can be used when creating titles to give a more professional look.
And finally, there is the Auto Enhance that can be gradient applied to any less than perfect footage.
I have to add here that the Auto Enhance is a bit of a "hit or miss" option.
Either it works OK or it doesn't and that depends on just how bad the footage is that you put into it.
Color Correction
On top of all of that, you also have a dedicated Color Correction module which allows you to both colors correct your videos as well as color grade through the use of LUTs.
Green Screen
The Green Screen or Chroma Key module can not only handle straight green or blue screen applications but you can use it to key out any color you like to create effects.
It also offers several settings within the module to further adjust your green screen videos to get them just right.
Transitions and Effects
Hiding in the background until you need them are over 300 special effects, objects, overlays, sound effects, music tracks, and transitions you can use.
The software comes with 51 audio samples comprising of 25 sound effects and 26 music tracks that you can use in your projects.
On top of that, there are 137 adjustable Titles presets, 178 Transitions most of which can be customized, 158 filters, 87 Overlays, and 191 mask elements
There is a dedicated Pan and Zoom feature for adding and customizing animations for still images as well as being able to customize and animate text.
It has motion elements so you can drag and drop moving graphics onto your video and a separate motion tracking module as well.
Video Creation/Exporting
By hitting the Export Button a new module opens offering a vast array of formats in which you can export your project.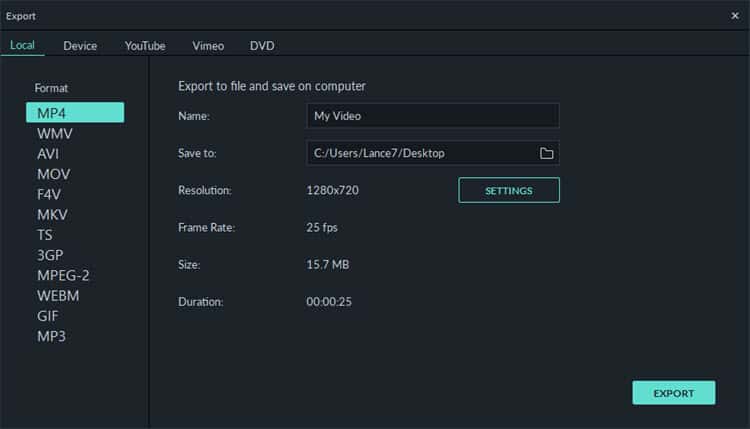 As you can see in the image above there are five basic choices to get you started towards exporting your final video into the most suitable format.
Local for the creation of the most common video file formats.
Device offering presets for the most common video viewing devices such as iPhone, iPad, SmartPhone, etc.
YouTube and Vimeo both of which are both tailored to the latest best practices for uploading to those services.
DVD for the creation of standard MPEG2 files for burning to DVD discs as well as the ability to burn the discs as well.
Each of the above is set at a default set of parameters and file types recognized as best for each but at any time you have full control over each one to adjust as you please.
Added Features in Filmora X
In this latest version of Filmora, three powerful tools were released.
KeyFraming
Keyframing allows you to create custom animations as well as apply very fine control over the effects you add to your projects.
Check out the video below to see this new feature in action.
Motion Tracking
This new module lets you identify an object or point within a video then have the software automatically track it to create a motion path.
Once that path has been created you can then attach any other object to the motion path and have it follow the original object.
Here's a tutorial on the subject to give you an idea.
Color Matching
This is a semi-automated module that allows you to match footage from different sources or footage that was perhaps shot at different times of the day.
Summary
Filmora X is a major upgrade and redesign of the earlier Filmora Video Editor and to be honest I was a little worried at first about how Filmora X would shape up.
The beauty of Filmora was always that despite a good range of features they remained focused on keeping the software simple in appearance and easy to learn and use.
Filmora X in keeping with customer demands has incorporated a lot of new features and of course, had to add access to those features into the user interface.
I was very happy to see that in doing so they have not compromised on their original philosophy of keeping the software interface clean and intuitive.
It doesn't really seem to matter what it is you want to do with the program, all you need do is look at the interface and pretty soon it seems obvious what it is.
The real problem in writing this review is trying to communicate the simplicity of the program without making it sound as though it is somehow crippled or lacking in features that are simply not true.
Most Common Asked Question:
Q.1: wonder share filmora price?
Ans. If you want to buy Pro then for the lifetime of $149.99 or for 1 Year $89.99/-
Q.2: filmora 9 downloads for mobile.
Ans: It is available in lite mode. You can download with the given link:
https://play.google.com/store/apps/details?id=com.wondershare.filmorago&hl=en_IN&gl=US
Q.3: is filmora free?
Ans: Yes, Filmora available free of cost. But you want more premium features then you have to purchase the pro version.
Q.4: wondershare filmora Pro latest version?
Ans: You can check all filmora update and new feature version wise on the given link. Click Here: https://filmora.wondershare.com/whats-new-in-filmora-video-editor.html
Q.5: Best Video Editing Software in the world?
Ans: Yes, It is true that now Wondershare is only easy to use and the most popular video software available free of cost and paid version.
------
Source: https://diyvideoeditor.com/wondershare-filmora-review